---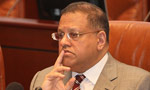 The parliamentary Committee on Public Enterprises (COPE), in its final report on the investigation into the Central Bank bond controversy, held former Central Bank Governor Arjun Mahendran directly responsible for the questionable transaction and called for legal action.
It said there was evidence which gives credence to the allegation that Mr. Mahendran interfered and influenced the process.
After the report consisting of 55 pages supported by 2000 annexes was presented to Parliament, its Chairman JVP MP Sunil Handunnetti read out the recommendations agreed upon by all 26 members.
The COPE stated that there was a lack of transparency on the bond issue that took place on February 27 last year and that the credibility of the Central Bank had suffered as a result.
It recommended legal action on this matter and observed that bond trader, 'Perpetual Treasuries' had made a huge profit within a short span of time .
It also recommended legal investigations and stressed the need for Parliament to monitor the follow- up action by law enforcement agencies and carry out progress reviews.
COPE recommended a mechanism to prevent the repetition of such irregularities in the future and requested the President to set up a system to supervise the awarding of such tenders by the Central Bank.
It also recommended that the financial loss caused to the government should be recovered from those responsible and called for a separate investigation by the Central Bank to determine how Perpetual Treasuries made such a huge profit within such a short time.
COPE stressed the need to evolve fresh legislation to ensure transparency where such transactions are concerned leaving no room for the credibility of the Central Bank to be tarnished. (Kelum Bandara and Yohan Perera )
See full report in Sinhala