---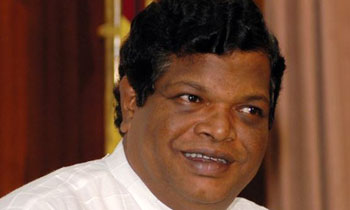 While referring to a review report of internal audit department, the Joint Opposition yesterday reiterated that former Central Bank Governor Arjuna Mahendran had misused Rs. 66 mn of Central Bank funds on 163 acts during a span of 17 months for his personal purpose.
Joint Opposition member MP Bandula Gunawardane told a media briefing that Mr. Mahendran had engaged in these financial impropriations with regard to the foreign travel and other expenses between February 1, 2015 and June 30, 2016.
"Mr. Mahendran has violated the Schedule III of the 'Central Bank of Sri Lanka (CBSL) Travelling Allowance Rules' as he had approved some officials including a Secretary to the Governor to travel in Business Class on their travel abroad," he said.
He said as per the rules the officials, except the Governor, Deputy Governors, Assistant Governors and the Heads and Additional Heads of Departments were selected by the Monetary Board to travel on duty abroad to be provided with the passage facility in Economy Class.
He said according to the report, Mr. Mahendran has made multiple hotel accommodations during same period during his visit to India for conference between India and IMF.
He said that Mahendran stayed in the following : ITC Maurya in Gurgaon, Imperial Hotel in New Delhi and Taj Palace F01 in New Delhi on March 10 – 13, 2016. However, the conference was held in Taj Palace, New Delhi.
"It was observed that there were hotel reservations for extra guests for which audit evidences are not able to ensure whether they were official guests. There were also frequent cancellations of foreign travel by him," he said.
He said the report denoted that the monthly average expenses incurred through credit card by Mr. Mahendran was exceeding Rs. 2.1 million even though the monthly average official expenses incurred by him were Rs. 1.5 million.
Meanwhile, he requested the authorities to provide the Joint Opposition with an opportunity to reveal those facts to the Special Presidential Commission which has been appointed by President Maithripala Sirisena. (Kalathma Jayawardhane)