---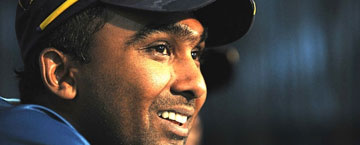 With Sri Lanka's hopes for a semi-final spot hanging on a thread with two-must win games remaining against high-riding England and South Africa in the Group 1, former Sri Lanka batting great Mahela Jayawardena urged Sri Lanka Cricket authorities to introduce a radical restructuring of the game at domestic level to bridge the ever-widening gap between the domestic standard and international standard.

The national team has struggled to cope with the retirement of several of their high-profile cricketers during the last two-years-- including Jayawardene and Kumar Sangakkara and many have called for the restructuring of the cricket set up to meet the demands.
Speaking during a live show in Sri Lanka's seven-wicket loss to the West Indies on Sunday Jayawardena also said that Sri Lanka had no excuses for the poor performance since they had two years to prepare for the tournament.

"I don't like to call it a transitioned phase. I think having a major tournament like this, we had time to plan. But obviously there were things which did not go right. It's something Sri Lanka Cricket should sit back and look at. It happens. All the teams go through that. We need to look to how we could develop our next generation of cricketers much quicker. Is there something we can do in our domestic structure to develop them faster and push them faster?" Jayawardena said responding to a question posted on twitter on the sideline of Sri Lanka's disappointing performance against the West Indies.

" So there are areas to look at and push players. We still have the talent. Majority of the players who were there when we won the World Twenty20 is with the team ( I think around 6-8 players) they had to fill in the other places. So we absolutely look at it very seriously," he added.

Jayawardena has repeatedly urged cricket authorities to overhaul the domestic game and masterminded a city based Elite Cricket Tournament comprising five teams which will feature the best players in the trade but faced a natural death after the election of the new cricket administration headed by Thilanga Sumathipala.

The zonal-based tournament which the interim committee of Sidath Wettimuni planned to introduce this year was suspended but SLC chief Thilanga Sumathipala had said that a county standard inter-provincial tournament was on the cards to replace the disbanded Zonal tournament while safe-guarding the age-old club system.

Jayawardena is closely following the national team currently competing in Group 1 of the World Twenty20 tournament played across eight venues in India offering expert commentary on his Sri Lanka matches.

Meanwhile Sri Lanka cricketers on Monday night landed here in New Delhi ahead of their final two group matches against England and South Africa. Sri Lanka takes on high-riding England on March 26 and South Africa on March 28 in search of a semi-final spot. With West Indies almost assured of a semi-final spot following their two impressive wins against England and Sri Lanka, it is a three cornered battle between Sri Lanka, England and South Africa for the other remaining semi-final spot from Group 1.

The defending champions need to win both their matches to go through to the next round, a tough ask from the islanders given their disappointing performance in batting and fielding. "We are having an optional training session today and two mandatory ones on next two day's ahead of Saturday's match," team manager Jerome Jayaratne said. (Champika Fernando reporting from Delhi)