---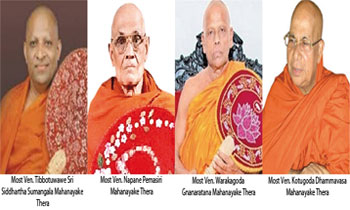 The Mahanayake Theras of the three Nikayas have written to President Maithripala Sirisena and Prime Minister Ranil Wickremesinghe to resolve the SAITM issue in a manner agreeable to all stakeholders.
They said it was best to resolve the issue based on the proposals submitted by the Deans of the eight Medical Faculties.
The prelates said they wrote the letter considering the request made by the Parents Association of State Medical students and Parents of SAITM students to mediate on the SAITM issue.
The letter signed by the Mahanayake of the Malwathu Chapter, the Most Ven.Thibbatuwawe Sri Sumangala; the Mahanayake of Asgiriya Chapter, the Most Ven.Warakagoda Gnanarathana Thera; the Mahanayake of the Amarapura Maha Nikaya, the Most Ven. Kotugoda Dhammawasa Thera and the Mahanayake of Ramannya Maha Nikaya, the Most Ven. Napane Premasiri Thera said the SAITM crisis had affected not only the medical education and health sector but also the lives of all people. (Nadeeka Daya Bandara)