---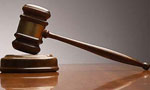 Judicial Service Commission has today interdicted Colombo Additional Magistrate Thilina Gamage after he was named a suspect by the Attorney General over the alleged possession of an elephant without a valid license, sources said.
The Judicial Service Commission sources said it had informed the Additional Magistrate Gamage regarding his interdiction.
Recently, the CID had informed Mr. Gamage to appear at the CID following the Attorney General's instruction.
However, he informed the CID in a letter, through his attorney, citing reasons for his inability to appear in the CID. (Shehan Chamika Silva)