---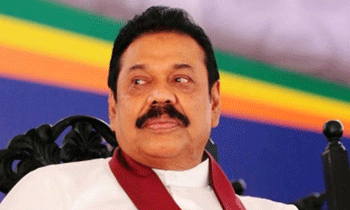 Former President and MP Mahinda Rajapaksa today said only 358 out of 493 budget proposals made in 2016 had been fulfilled and that the Government should fulfill its promises given to the people.
In a series of tweets, Mr. Rajapaksa said, in 2016, Rs. 65 billion (35%) was spent from Rs. 203 billion allocated for the Education Sector, Rs. 13 billion (44%) was spent from Rs. 30 billion allocated for Megapolis Development and Rs. 996 million (62%) was spent from Rs. 1577 million allocated for Telecom.
"Some of the other promises of this Government that have gone unfulfilled from the 2016 budget proposals are Malabe Mahapola University, EXIM Bank, 7,000-seat Conference Hall in Colombo and the Keleni Valley Railway Line Development," he said.
He said the Government was trying to mislead the public by reducing taxes on certain consumer goods immediately before the presentation of the Budget 2018.
"It is reducing taxes from the very goods on which it imposed higher taxes at previous budgets. While the Government is increasing revenue through heavy taxation on the public in the Budget 2018, the Government's recurrent expenditure has increased by Rs. 868 billion, or 62%, compared to 2014. Is this how you reduce wastage?," Mr. Rajapaksa said.
He said in order to achieve a per capita income of $5,000, as proposed in the Budget 2018, Sri Lanka's GDP must be more than $106.5 billion.
"In 2017, it was $84.9 billion. That means the economy must grow 25%. How can that be achieved at the current growth rate of 4.5%? Sri Lanka's budget deficit in 2018 is expected to be Rs. 675 billion. This is a significant increase from Rs. 591 billion in 2014," he said.
As of December 2014, he said government debt was Rs. 7.4 trillion and by the end of 2018, the debt is expected to be more than Rs. 12 trillion, a 64% increase in four years.
"During my nine years as President of Sri Lanka with the war and subsequent development projects, the Government obtained a total of Rs. 5.2 trillion in loans. During the first four years, this Government plans to obtain Rs. 4.7 trillion in loans. That's 90% of how much we obtained during nine years.
As a result of the reduction in global oil prices, the Government would have saved more than $5 billion during the past three years. If used responsibly, the Government could have paid off most of the debts that were there when it assumed office in 2015," he said.