---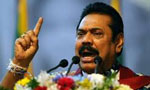 Former President and Kurunegala district MP Mahinda Rajapaksa said he was surprised to note that President Maithripala Sirisena was unaware of the action of the Financial Crimes Investigation Division (FCID).
Addressing a religious ceremony at a temple in Lunugamvehera on Sunday, he said the Executive President should be strong enough to run the country properly. "But during the past two years the government focused only on taking revenge," he said.
He said the government took revenge not only from him and his family members but also from Buddhist monks.
"They took Buddhist monks to the FCID. Questioning them on how did they build their temples and who funded them. Then they searched for the funded list and questioned on them how much they funded for the constructions. More than 20,000 people had been summoned to the FCID for questioning. There are 48 Buddhist monks were who sentenced to prison," Mr. Rajapaksa said.
He alleged these moves could be a part of a conspiracy carrying out against a religion. "Some people in the government are not ready to accept what the white men accepted. They accepted that Buddhism should be given prominence from the constitution," he said.
He said the judiciary or the responsible officials should think thoroughly before taking action. (Chaturanga Pradeep)
Video by Roshan Gunasekera