---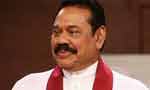 Former President Mahinda Rajapaksa said today the new Inspector General of Police (IGP) should be alert on police officers who act according to the whims of the government and harass those with dissenting political views, expecting favours in return.
He made these remarks at a function held in Thorakolayaya, Embilipitiya on the occasion of the birthday of Ven. Pusselpitiye Suneetharathna Thera.
Though the celebrations were scheduled to be held in the afternoon, former President Mahinda Rajapakse arrived at the site early in the morning, and the day been a Poya day a large number of devotees who were observing Sil and villagers from the vicinity congregated when the former president made his appearance.
He began addressing the crowd present after wishing the chief prelate long life, said that he had witnessed the new development in the temple and attributed it to the efforts of the Thera. He recalled the past , by calling to memory the brutal killings of the youth that took place during the JVP insurgency, and how bodies were burnt on tires lit. He hinted that his own houses in Medamulana and Hanwella were subjected to attacks by these groups, and he was provided security by former President J.R. Jayawardene and the then Defence Minister Ranjan Wijerathne.
He also revealed that his government launched a mass development programme with the aim of achieving self sufficiency in food. It had now become a serious issue with the idea of using paddy lands for other purposes and the water stored in tanks not been released for agricultural purposes.
He also compared the festive periods celebrated under his rule where there was plenty and the farmers having received a high price for their harvest were in the forefront of the celebrations, but claimed this year it was different as the paddy prices hit rock bottom and fertilizer was beyond the reach of these farmers.
He countered allegations by the opponents that he was criticizing the government, but said that these were mentioned to help guide this government.
He slated the actions of the CID and the FCID saying they were bent on creating cases with a view of the police officers getting promotions and stars. Some are forced to accuse others of wrong doings.
There had been acts of duress where the police hierarchy had been involved. It had now turned out to be the complainant blindly signing a statement purported to have been prepared previously, he said. (Ajithlal Shantha Udaya, Jayantha Nanayakkara and Yasith Nalin Jayaweera)