---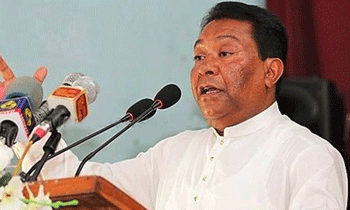 It was ex-President Mahinda Rajapaksa who is responsible for the present predicament of the SLFP because he did not agree to nominate former Speaker Chamal Rajapaksa as the Prime Ministerial candidate at the August 2015 election, Minister S.B.Dissanayaka charged.
Minister Dissanayaka addressing the media at his office said that if the former President had done so the party would have won more 113 seats and a SLFP government under President Maithripala Sirisena could have been formed.
He added the SLFP Parliamentary Group, provincial leaders and other party stalwarts had wanted President Sirisena to nominate former Speaker Rajapaksa as the SLFP Prime Ministerial candidate at the August 2015 general election because he did not have any allegations of corruption, malpractices or crimes levelled against him.
"Even President Sirisena was agreeable to the suggestion but former President Rajapaksa protested vehemently and we lost the election to the UNP," Minister Dissanayaka stressed.
On the other hand, UNP Leader and Prime Minister Ranil Wickremesinghe could have easily instructed President Sirisena to dissolve Parliament after victory at the January 8 Presidential poll and easily won the general election as well with a big margin utilising the election victory euphoria and formed a strong UNP government single-handedly as well.
The SLFP would not have won more than 60 seats if he had done so, but in a magnanimous gesture and show of Statesmanship, Mr. Wickremesinghe agreed with President Sirisena to form the 100-day Unity Government with the SLFP, he said. (By Sandun A Jayasekera)
Video by Janaka