---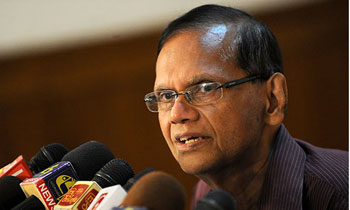 Former president Mahinda Rajapaksa had an opportunity of regaining the GSP+ facility during his tenure if he had agreed to the conditions laid down by the European Union (EU) at the risk of compromising the country's sovereignty, SLPP Chairman G.L.Peiris claimed today.
He told a news briefing that Prime Minister Ranil Wickremesinghe was only speaking a lot about GSP+ but not about the conditions laid down by the EU to grant this preferential tariff system again to Sri Lanka.
"Government has to agree to 58 conditions which are disadvantages to the country and its sovereignty, such as the removal of the Prevention of Terrorism Act (PTA) and restructuring the military. We are in favour of Sri Lanka regaining this facility but opposed to selling our nation. Mr. Rajapaksa rejected a similar set of conditions," Mr. Peiris said.
He said regaining the GSP+ was not the issue but what mattered was the repercussions of regaining it.
"We cannot pawn the country for the sake of economic growth. The Prime Minister cannot deny the fact that these conditions will impact on the country and the people adversely," Mr. Peiris said.
The Generalized Scheme of Preferences or GSP+ allows developing countries to pay less or are exempt from duty exports to EU-member countries while providing access to EU markets and contribute to their economic growth.
Sri Lanka lost this facility in 2010. Last year German Chancellor Angela Merkel assured President Maithripala Sirisena that the EU would re-consider offering the GSP+ facility based on the steps taken by him on re-establishing Human Rights, Labour Rights, Environmental Protection and Good Governance. (Thilanka Kanakarathna)
Video by Buddhi