---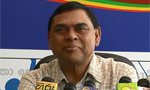 Former president Mahinda Rajapaksa has the ability to rescue Sri Lanka from the downfall which would be faced by the country in the near future, the Sri Lanka Podujana Peramuna (SLPP) claimed today.
Addressing the media in the recruiting of members to the SLPP, former minister and SLPP front-liner Basil Rajapaksa said the county was heading towards a dark era unlike in the governing period of former president Rajapaksa.
"It is not former president Rajapaksa who is in need to govern this country again, but it is the country which need the guidance of him to bring back the country out the dark era which we are experiencing at present," he added.
At the event, three trade unions from the Urban Development Authority, Ceylon German Technical Training Institute and the Sevanagala Sugar factory and several former Provincial Council members were offered with the membership cards of the SLPP.
A collective of youths named 'Hadawathe Janadhipathi - Mahinda' had also being registered to the SLPP and were given the membership cards.
Meanwhile, conducting a media briefing on media freedom and its suppression by the government, the SLPP said the government was in a mission to ban media by creating the necessity to regulate media institutions.
Addressing the media briefing, media expert Kula Sri Kariyawasam said it was not a surprise to experience authoritarian media suppression from the government since it was a United National Party (UNP) based government.
"The government's hatred towards the media is evident from the behaviour of the President and the Prime Minister. However, when the government came to power they had assured the people of complete media freedom. Unfortunately they are practising its opposite now" he added. (Kalathma Jayawardhane
Video by Buddhi