---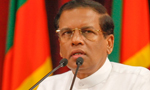 President Maithripala Sirisena said that he has allowed former president Mahinda Rajapaksa to have a massive security detail including two helicopters even though he was defeated during the last Presidential election.
Speaking at an event in Bibile, President Sirisena said the former President was allowed to choose his security officials, from ranks such as brigadiers, colonels, captains, majors and the police for his security division.
"Have you heard of any former political leader in the world who was allowed to travel in state owned helicopters after he lost an election? The former President was given two helicopters to go to Tangalle on the morning of January 10. If anyone here or outside is aware of any political leader in the world who was allowed to use government army soldiers for his personal security even after he lost an elections, please let me know," the President said.
Rajapakse had high security bullet proof vehicles and 226 security officials when he was in power.
"Any political leader in any part of the world has not been allowed to use such a large number of security personnel after he lost power. But, I allowed him to do so. When it comes to me, there are no military personnel within my security division. There aren't any in Prime Minister Ranil Wickremesinghe's security division either," he said.