---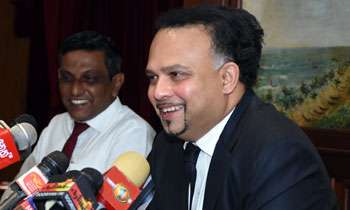 Plantation Industries Minister Navin Dissanayaka said yesterday that opposition and SLPP de-facto leader Mahinda Rajapaksa could even nominate his wife Shiranthi as the presidential candidate of the joint opposition because he is the sole decision maker on this subject on behalf of the JO and the SLPP.
He told reporters at yesterday's news briefing at the Sri Lanka Tea Board (SLTB) auditorium that the UNF would take a collective decision on the UNF candidate after consulting all constituent parties of the UNF, minority parties, Pradeshi Sabha and Provincial Council members and UNF Parliamentarians.
The dialogue ensued between Minister Dissanayaka and journalists at this juncture as follows:
Video by Amantha
Daily Mirror:
The SLFP has decided to field party leader and incumbent President Maithripala Sirisena as their Presidential Candidate. The SLPP says their candidate will be decided by opposition leader Mahinda Rajapaksa. Who is going to be the candidate of the UNP?
Minister Dissanayaka:
If Mahinda selects the JO's and SLPP's candidate it could be even Shiranthi. But we will take a collective agreement at the right time to ensure the victory of our candidate.
DM:
Young MPs and a vast majority of supporters of the UNP want a new face as their Presidential candidate. Do you agree?
Minister:
Yes, but our candidate will not be chosen from a particular family. As a democratic party, the UNP will consider all dissenting and amenable ideas of all before a decision is made.
DM:
Will it be a new face?
Minister:
Yes and no. You know, in 1988, there were three front line Presidential hopefuls from the UNP that included my father late Gamini Dissanayaka, late Minister Lalith Athulathmudali and Ranasinha Premadasa. Ultimately, Mr. Premadasa was chosen as the UNP candidate. Therefore, we can't predict who is going to be our Presidential candidate.
DM:
But the popular demand is for a new face.
Minister:
What I can say for sure is that whoever the candidate, he or she will be from the UNP and he or she will be the absolute winner.
DM:
But other two major parties have already decided.
Minister:
Be patient. You may remember how President Clinton emerged from nowhere in 1993 and won the primaries of the Democratic Party and ultimately the Presidential poll. Same happened in 2016. Donald Trump won the Presidency in the same manner. This could happen within the UNP also at the end of the year.
DM:
President Sirisena vehemently opposes to form a National Government. The UNP desperately wants it. How are you going to overcome this imbroglio and form a National Government?
Minister:
I would like to draw your attention to the remarks once made by President Sirisena that he would never appoint Ranil as the Prime Minister. During 2015 general election campaign he said he would not appoint Mahinda as the Prime Minister even he won. There is nothing impossible in politics. (Sandun A Jayasekera)