---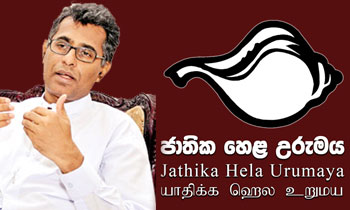 Former President Mahinda Rajapaksa and his family should be produced before a Presidential Commission of Inquiry (PCoI) over the allege misconduct which occurred in connection with Avant Garde and several other cases, Jathika Hela Urumaya (JHU) General Secretary Patali Champika Ranawaka said.
At a news briefing held at the JHU head office he said so far Mr. Rajapaksa was claiming that the present government was taking revenge on him, however this government has set a good example by not protecting any corrupt individual and appointing a PCoI to inquire into the bond issue with former finance minister Ravi Karunanayake resigning from his portfolio.
The minister charged that the Former President and the family had involved in many corruptions deals such as the Avant Garde and CSN incidents and each occasion the law suits were framed against him, he yells and claims as it was a act of revenge.
"President and the Premier had proved that the Rajapaksa's claims does not carry any weight and therefore they were not hesitant to take any action against them. It is the present government's responsibility to investigate the misconducts carried out by the Rajapaksa and his gang during the last ten years," he said.
He further said that it was not a political hunt against Rajapaksa and his followers but it is a proper investigation against the corruption.
Meanwhile, Minister Ranawaka said that the JHU observed certain loopholes in the present judicial system and could be harmful for the country if a strong remedial measures are not introduced. In this context, an anti corruption new laws would not introduced immediately.
He also said that responding to a Cabinet paper, to introduce a Parliamentary bill for the formation of a separate anti corruption court, the Attorney General has said such a bill can go through Parliament following a Constitutional reform is implemented.
"If a Constitutional reform is needed to free the country from corruption we should do the needful," he said. (Thilanka Kanakarathna)