---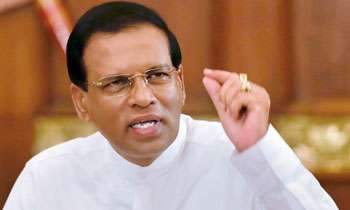 In a special statement, President Maithripala Sirisena today said the parliament was dissolved due to the sad situation where elected MPs were putting a price on their value and the 'amazing behaviour' of Speaker Karu Jayasuriya.
The President said it was unfortunate to note that some MPs had put a price on their value when the two main political camps were attempting to show the majority in parliament.
"This was one of the main reasons which led to the dissolution of parliament. The other reason was the 'amazing behaviour' of the Speaker. Initially, he agreed to accept Mahinda Rajapaksa as the Prime Minister and several days later, he said he recognizes Ranil Wickremesinghe as the Prime Minister. In the meantime, some MPs said a tense situation was possible on the day the parliament was scheduled to reconvene. Therefore, I decided to dissolve parliament so that the people of Sri Lanka can reelect a new set of MPs who are clean and genuine," he said.
He said he would support the Election Commission in conducting a free and fair election and requested everyone to provide their fullest corporation to the Commission, the Police Department and the armed forces.
The President also requested all former ministers, deputy ministers, state ministers and MPs to return the state vehicles and other state properties. "Only the members of the caretaker government will be allowed to use state vehicles and properties," he said.