---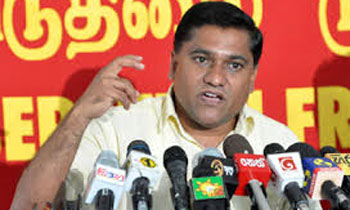 The Janatha Vimukthi Peramuna (JVP) said today it would accept the maintenance allowance to MPs though on principle it was opposed to the granting of such an allowance.
JVP MP and Propaganda Secretary Vijitha Herath told a media briefing that his party was opposed to the proposed Rs.100,000 office maintenance allowance to parliamentarians but its MPs would accept it so that others would not get the chance to grab these funds.
"If our MPs refrain from accepting this allowance, others will rob it," he said and added that they were opposed to it because MPs receive enough facilities.
The government will spend Rs.134 million to pay office maintenance allowance to the MPs.(Yohan Perera)