---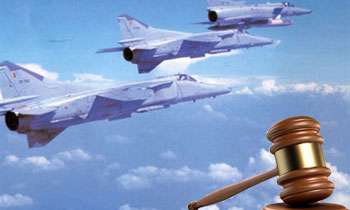 The Colombo Fort Magistrate today issued notices on four individual suspects and a Ukrainian and Singapore business institutions during the magisterial inquiry on the US$14 million loss caused to the government when purchasing four Ukraine–built MiG 27 aircraft in 2006.
Among the suspects named in the report filed by FCID were two Singaporeans, two Ukrainians and a Ukrainian and Singaporean business entities. FCID requested court to direct the suspects to report to the FCID to record further statements.
Based on the evidence filed in Court, Colombo Fort Magistrate Lanka Jayaratne observed that the two institutions and the suspects appeared to be directly involved in 'the MIG 27 transaction and as such the Court could consider issuing notices despite questions on the jurisdiction of the Court in issuing notices on foreign individuals.
Notices were issued on Singaporeans T.S. Lee and N.G. Lay Kim and Ukrainians – D.A. Peregudov and Mykola Kulayrkaiv and Belimsa Holdings and D.S. Alliance.
The case was fixed for June 29.
Earlier, the FCID confirmed the arrest of the first suspect, former ambassador to Russia, Udayanga Weeratunga and told Court that the steps were being taken through the Foreign Affairs Ministry to bring him to Sri Lanka. (Yoshitha Perera and Shehan Chamika Silva)