---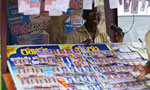 The lotteries ticket dealers said they would stop selling lottery tickets from January 1 if the government does not withdraw its proposal to increase the price of a ticket to Rs.30, the All Island Lottery Dealers Society (AILDS) said today.
AILDS Chairperson Krishantha Marambage said President Maithripala Sirisena should have intervened to resolve this matter because the increase in the price of a ticket would create a huge loss in the lottery ticket industry.
"It is not still clear who had decided to increase the price. We don't know whether it is a decision of the Finance Ministry or the two lotteries boards," he said.