---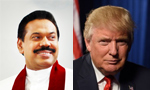 With the election of Donald Trump as the next US President, former president and MP Mahinda Rajapaksa said today that he was looking forward to a new world order based on the principles of the sovereign equality of all nations and non-interference in the internal affairs of nation states.
Sending a congratulatory letter to US President-elect Donald Trump, Mr. Rajapaksa said Mr. Trump's presidential election campaign was followed closely throughout the world because the issues he fought the election on resonated far beyond the borders of the US.
"It gives me great pleasure to congratulate you on your election as the President of the United States. I wish you every success during your tenure," he said.
Meanwhile, he extended his gratitude towards the previous Republican administration for its cooperation extended to Sri Lanka especially in the spheres of diplomacy and intelligence which helped Rajapaksa government to defeat the LTTE.