---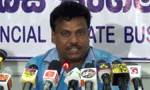 Inter-Provincial Private Bus Association (IPPBA) today said it they would definitely go on a countrywide bus strike, if the Finance Minister failed to provide a reasonable solution to the proposed increase in the minimum penalty of Rs.2,500 for traffic offences.
While addressing media in Narahenpita today, the President of the IPPBA Sarath Vijitha Kumara said Minister Ravi Karunanayake should revise the minimum penalty of Rs.2, 500 for traffic offences proposed in the budget, after discussions with the IPPBA.
"It is not fair to increase the minimum offence of Rs. 20 to Rs.2,500. If the minimum fine minimum for an offence is increased that much, we can realize how much will going to be charged for other offences," he said.
"However, it is fair to impose such fines for drunken drivers," he said.
"Bus drivers are not the only killers on the road. If they do so, it is a result of current road. We don't need to have a discussion after a strike. Our association is not taking decisions as Gemunu Wijeratne's bus association. We always try to take decision only after discussions to minimalize the damage to the country," he said.
Mr. Kumara said increasing the minimum offence was not reasonable. It could only be applicable after providing proper infrastructures.
"Traffic Police personnel are not 100 percent law abiding to impose such penalties. It will be a paradise to the Traffic Police," he charged
Finally, the IPPBA urged President Maithripala Sirisena to take action to scrap the penalty hike and revise the fine at a reasonable point. (Chaturanga Pradeep)