---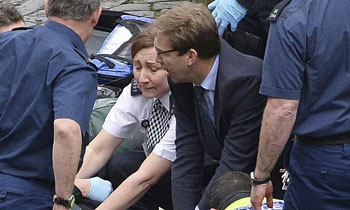 A British foreign minister bloodied his hands attempting to save the life of a police officer who was stabbed on the grounds of Britain's Parliament in what was described Wednesday as a "terrorist incident."
After an individual drove a 4x4 through a crowd outside the Palace of Westminster, shots were fired and a police officer was stabbed. Tobias Ellwood, a conservative member of Parliament and former soldier who was close to the incident, rushed to the officer's side. The officer later died of his wounds.
Photos of Ellwood — once an infantry captain in the Royal Green Jackets — show him in a blue suit giving the unidentified police officer mouth-to-mouth and attempting to staunch the blood flowing from the stab wounds.
Ellwood reportedly stayed with the officer until an ambulance arrived. A later photo shows him with blood smeared on his forehead.
The assailant reportedly barreled across Westminster Bridge in a vehicle, striking and killing one woman. He then crashed into a fence before eyewitnesses saw him charge through the gates of Westminster Palace with a knife. That is where the law enforcement officer who Ellwood helped was stabbed.
London police said three victims, as well as the assailant, were killed in the attack and 20 were injured.
British law enforcement said they were treating this "as a terrorist incident until we know otherwise."
A dual national of the United States and United Kingdom, Ellwood has represented a constituency in Southern England since 2005. He became the Foreign Minister for the Middle East and Africa in July 2014.
Ellwood lost his brother in the 2002 Bali bombing that killed 202 people.
Norway's Foreign Minister, Borge Brende, called Ellwood a good friend and "a true hero that worked to save lives today following the horrible attack in London."
This isn't the first time the British MP has put his heroics on display.
According to the BBC, Ellwood was taken to a hospital in 2009 and temporarily lost hearing in one ear after he fought a gang in his constituency. Another group threw stones at him in 2008 when he threatened to call the police after witnessing them urinate in a constituent's garden.
Ellwood served in Northern Ireland, Cyprus, Kuwait, Germany, Gibraltar and Bosnia while in the military. He's currently an active Army reservist. (NBC News)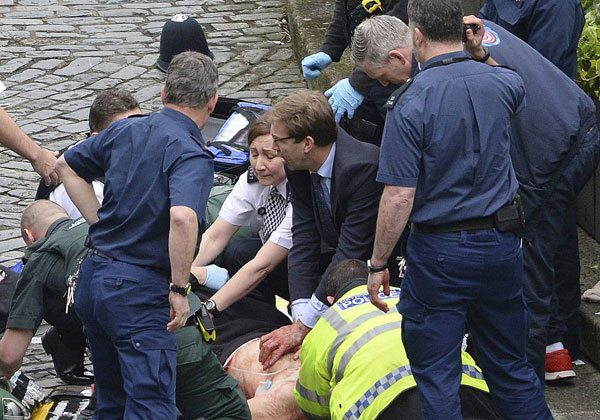 Conservative Member of Parliament Tobias Ellwood, center, helps emergency services attend to an injured person outside the Houses of Parliament in London