---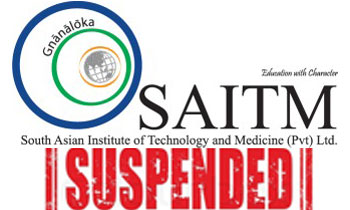 Eight State Medical Faculty Deans who met Higher Education Minister Lakshman Kiriella, have decided to propose that SAITM suspends the admission of students until the completion of the periodic review on its medical degree programme, a statement said.
During the six-month period, the Ministry of Higher Education, the University Grants Commission and Sri Lanka Medical Council (SLMC) and other stakeholders will develop an operational procedure applicable to non-state medical education.
Higher Education Ministry Secretary D.C. Dissanayake said in a statement that it was decided to propose to the SAITM administration to refer students who already completed the degree to undergo a month each on clinical training in Medicine, Gynecology, Obstetrics and Pediatrics in a state hospital.
In addition they would have to pass a licensing examination conducted by the SLMC. At the meeting, the Deans agreed to discuss the proposals with the SLMC.
State Minister of Higher Education, Mohal Lal Grero, UGC Chairman Prof. Mohan de Silva and Vice Chairman Prof. P.S.M. Gunaratne attended the meeting.