---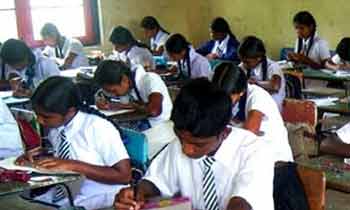 The GCE O/L Examination Mathematics paper was not extraordinarily difficult as claimed but steps had been taken to make amendments to the marking scheme to provide justice to the students as there were certain sections of questions deemed difficult, Commissioner General of Examinations Sanath Pujitha said today.
Mr. Pujitha said in a statement that the Department of Examinations had reached this decision following a study conducted on the issue.
"Many parties have claimed that majority of the students had faced difficulties in answering the Mathematics paper as there were some advanced questions. A panel consisting 20 members including paper compiling board, chief markers and Mathematics teachers have conducted the said study," he added.
He said that at the end of any examination they would conduct such a survey collecting sample of answer scripts.
He said that following the study it was evident that the examination was not extremely difficult to achieve a simple pass as claimed.
"However, some questions were to achieve high-level skills and were to be answered with reasoning and problem solving, and it was difficult for students to achieve full marks," he added. (Kalathma Jayawardhane and Chaturanga Pradeep)