---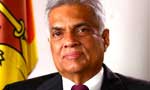 In the wake of the Supreme Court's announcement on the Value Added Tax (Amendment) Bill, Prime Minister Ranil Wickremesinghe said legislation had been enacted in a similar manner by previous parliaments and requested the Speaker to rule on this matter for future legislative work.
He said though he was aggrieved by the ruling, he would not call for the impeachment of the Chief Justice. He said the rule of law had been established under the government founded on principles of good governance and therefore one could at least seek redress from court.
The Prime Minister said there seemed to be a deviation in this instance. He said it was against the ruling given by former Speaker Anura Bandaranaike who upheld the supremacy of Parliament.
However, he said the government would introduce fresh legislation in this respect in conformity with the Supreme Court's ruling.
"I do not intend to create a conflict in this regard," the Prime Minister said.
He said he was compiling details about the laws adopted in a similar manner and pointed out that it was a matter for Parliament to determine whether Cabinet approval had been secured for a particular Bill under Standing Order 133.
The Prime Minister said the ministers had acted in the past without notifying the House .
The Speaker said he would study the matter in consultation with the party leaders and give his ruling. (Kelum Bandara)