---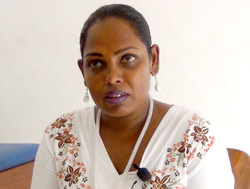 B. Maheshwari
The Centre for Sex Workers Rights (CSWR) renewed their call to the authorities urging that their profession be legally recognised as a means of controlling the spread of Sexually Transmitted Diseases (STDs), especially HIV.
CSWR Co-Chairman B. Maheshwari said streamlining and legalizing sex work would solve many of their concerns including the control of STDs.
She said many Sri Lankan sex workers leave for countries like Thailand, Malaysia and Singapore because their profession is not recognized here. "On their return, they are often found to be infected with STDs," she told Daily Mirror.
Video by Sanath Desmond
Ms. Maheswari said instead of focusing on their plight everyone looks down on them.
"When the police arrest us and produce us in court we are remanded for two weeks. When we are in remand, there is no one to look after our children and to feed them. There could be instances where female children are molested. The industry is not going anywhere. As we see it, the only solution is to legalise the profession. By doing so, we can control the spread of STD as well," she said.
Ms. Maheshwari, who has often visited India, said India has legalised sex work and it was not frowned upon by the people there.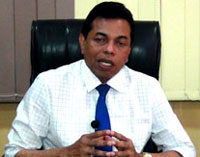 Dr. Palitha Mahipala
Meanwhile, Health Services Director General Palitha Mahipala said the spread of HIV in Sri Lanka was remarkably less than in other countries in the region.
"The number of HIV cases reported in the country is less than even 0.1%," he said.
Dr. Mahipala said they had identified the groups which are prone to the disease and were carrying out programmes to educate them and prevent the spread of HIV.
National STD/AIDS Control Programme Director Sisira Liyanage said a majority of HIV-infected people in the country were men.
"Unsafe sex has been identified as the main cause of the spread of HIV," he said adding that awareness programmes among those who practice unsafe sex was important to tackle the spread of HIV.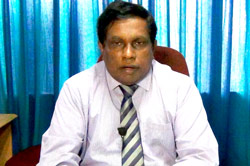 Dr. Sisira Liyanage
"We have identified about 15,000 sex workers but there are more who use phones and internet as a means of contacting clients. We can't approach them and conduct a survey because they carry out their profession in secrecy. We request them to come to the clinics," Dr.Liyanage said.
With regard to the call to legalise sex work, as a means of preventing the spread of HIV and STD, Dr. Liyanage said it would streamline the profession but legalising alone would not curb the spread of these diseases.
"If sex work was legalized, then sex workers should be issued a license after they were screened for STDs. However, still there are sex workers engaged in profession without licenses even in countries where it sex work is legalized. We, the health sector, have to continue to work whether the profession was legalized or not. When it comes to tackling HIV, legalizing sex work alone is not enough. It is good for their rights," he said.