---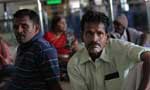 Sri Lankan refugees who were risking their lives to go to Australia — a country that has already shut its door on asylum seekers -— were intercepted in a joint-operation involving the Q-Branch, Coastal Security Group (CSG), and Tiruvallur police, in the small hours of Thursday near Chennai.
Two agents, both Lankan nationals, assured the refugees that they were scheduled to leave from Pulicat Lake as tourists and were to board a shipping vessel heading to Australia, to be off-loaded in Christmas Island, which is 3,710 km away from the Tamil Nadu coast.
Twenty-eight refugees from four camps — Gummidipoondi, Puzhal, Vellore, and Bhavani Sagar (Erode) — who had paid for the trip were intercepted while being transported by road at two locations, Tirupalaivanam and Sholavaram police limits, in neighbouring Tiruvallur district, between 2 am and 5 am.
Thirteen of the 28 were men and they were picked up by the police while the women and children, to be recorded as witnesses, would be sent back to their respective camps. Besides, three drivers hired to drop the refugees at Pulicat Lake and two-wheeler riders escorting the group were also arrested.
"It is highly improbable to make it to Australia by a boat and it is nothing but a cheating racket. We have been trying to sensitise refugees on the dangerous trip that they should not be undertaking. They are so engrossed in the idea of going to Sri Lanka and financing Rs 1 or Rs 2 lakh as demanded by the agents through their kin resettled elsewhere. It is also suspected that the agents themselves tip off the police to scuttle the journey and thus maximise their profits, given the challenges in the trip," S.C. Chandrahasan, founder, Organisation for Eelam Refugees Rehabilitation, told DC.
Mr Chandrahasan added, "Australia is gearing up for elections and the refugee issue will be a major poll plank like last time. Most Australians do not want their tax money to be spent on refugees whose economic prosperity once they are allowed into the country is envied."(Deccan Chronicle)