---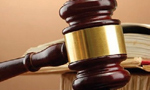 To strengthen international relations, Indian Judges are going to share their experiences with the Judges of the neighbouring countries and telling them how India is dealing with the huge backlog of pending cases.
The National Judicial Academy is organising five-day training programme for judicial officers from Sri Lanka in Bhopal from August 20 to August 24. This is the first conference of the more schedule this year later.
The programme will be under the guidance of Chief Justice of India Justice T S Thakur, who is the also the chairperson of the academy. The sessions will be on issues like case development methods in developed in India, cyber crime & laws and usefulness of death penalty, among others. The seven-judge team is expected to visit to Sanchi, the world famous Buddhist vihara, and also a local court to see the proceedings. The Sri Lankan judges will also be attending training sessions on circumstantial evidence recording of confessions, realibility of witnesses, judicial ethics and art, science and craft of judging.
Similar training modules would be made for judges from Bangladesh, Bhutan, Mynammar and Nepal. Dates are yet to be finalised.
"Our aim is to understand the issue of judicial officers and challenges they are facing and share ideas and techniques of each other in order to smoothen the justice delivery system," said one of the programme coordinator.(The Sunday Standard)