---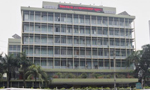 Hagoda Gamage Shalika Perera, the Sri Lankan businesswoman who got a deposit of $20 million in her account last month, claimed that the funds were anticipated but had no idea they were stolen from Bangladesh's Central Bank in one of the largest cyber heists in history.
Anonymous hackers breached Bangladesh Bank's systems between February 4, 5 and attempted to steal nearly $1 billion from its account at the Federal Reserve Bank of New York.
Even though many of the payments were blocked, $20 million made its way to Perera's Shalika Foundation before the transfer was reversed. Bangladesh Central Bank officials stated that they acted after a routing bank, Deutsche Bank, sought clarification on the transfer because hackers misspelled the company's name as "Fundation."
Another $81 million was routed to accounts in the Philippines and diverted to casinos there, where the trail runs out, sources said.
The Philippines Senate is holding hearings in the case, but thus far, few details had emerged on the Sri Lanka link.
In her first public comments on the case, Perera had told Reuters that she expected $20 million to come from the Japan International Cooperation Agency (JICA) to help fund a power plant and other projects in Sri Lanka. She urged that she had no direct dealing with JICA, but the deal was arranged by an acquaintance who she met in Sri Lanka but had connections in Japan.
Shalika was set up in October 2014 and states in its registration documents that it constructs low-cost houses and provides other social services.
Meanwhile, JICA mentioned that it had no ties with Shalika Foundation, including through any intermediaries.
"We have had no exchange with them, and that includes such areas as loans and grants," JICA spokesman Naoyuki Nemoto said.
The Sri Lankan Police Criminal Investigation Division declined to comment because the probe was ongoing, sources said.
Ms. Perera said she now thinks the acquaintance was either a victim of the hackers or in league with them, and she was hoodwinked into becoming a part of their scheme.
She produced Reuters a copy of an inward remittance advisory from the SWIFT Bank messaging system to put the $20 million in her company's account. The remitting entity was shown as a Bangladesh government electricity agency that had obtained a loan from JICA in 2010 to fund an electricity project.
The head of the Bangladesh government agency, the Bangladesh Rural Electrification Board, said it was "ridiculous" to assume that the money could have come from them.
The report provided the names of Perera's acquaintance whom Reuters has been unable to locate and the Japanese middleman. Reached by phone, the middleman said he was travelling and unable to comment immediately.
Perera maintains she is innocent and describes the government's move as "an injustice."
In early February, Perera said her acquaintance, who had been helping her for more than a year to meet investors, told her to expect $20 million from JICA. Under their agreement, the payment would be split between her power plant project and a housing project controlled by her acquaintance, she said.
Perera said she had not seen the report which was submitted to the Magistrate's Court last week. According to the report, bank officials stated that Perera left instructions with them to transfer $7.72 million to her own personal account and $11.12 million to an account controlled by her acquaintance once the transaction had cleared.
Perera confirmed that she had instructed the bank, and said they reflected the money earmarked for the two projects and commissions. The rest was to be used for taxes, she added.
The money was remitted by the Pan Asia Bank to the Shalika Foundation's account on Feb 4, but the bank refused to release the funds as the amount was unusually large and sought further verification, according to last week's police report.