---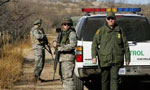 The US border patrol agents on Sunday night had arrested a Sri Lankan man who failed to produce proper documentation or his passport, Palm Beach Daily News reported.

Ingarathas Rajalingam, 26, was a passenger in a black 2001 Ford SUV that an officer stopped at 11:45 p.m. in the 200 block of Royal Palm Way because the vehicle's window tint appeared too dark.

Rajalingam previously had been arrested in Houston for being in the country illegally under Section 212(a) of the Immigration and Nationality Act, according to the police report.
According to the report, the passenger and driver told police they were staying in Miami and were training to become pilots at Kendall-Tamiami Executive Airport in Miami.

Rajalingam said he was born in Sri Lanka but lived in France and arrived in the States in December.

Rajalingam told police he was stopped in Texas in the airport because his student visa was expired and he was not allowed in the country.

One of the two police officers making the stop noticed cut-up electrical wire in the trunk of the vehicle, strands of rope tied up neatly on the passenger seat and a panel that was removed from the driver's-side passenger floorboard, with exposed wires running from the front to the back of the vehicle.

Two border patrol agents arrived and arrested Rajalingam for failure to possess proper documentation or a passport.

The driver was given a warning by border patrol agents for having an expired residence card. Palm Beach Police issued the driver a citation for illegal front vehicle window tint.