---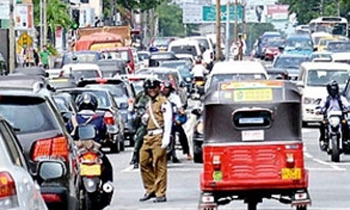 Police said it would launch a special traffic operation from tomorrow to arrest the drivers who violate lane rules in Colombo and its suburbs.
Director of Police Traffic Division in Colombo, SP Sumith Nissanka told a media briefing today that additional police officers would be deployed to ensure that the law was strictly implemented and that drivers follow the rule.
He said the law will be implemented on the High Level Road, Galle Road, Baseline Road and also on the entry points to Colombo City.
He said violation of the lane rules was the main reason for traffic congestion in Colombo. " The lane rule law is not a new regulation. It was inducted to the Motor Traffic Act in 1951. We will issued a charge sheet or legal action to be taken for drivers who drive carelessly neglecting the traffic lane law," he said.
SP Nissanka said the Police Traffic Division and the Colombo Traffic Division are implementing the programme with the direction of Senior DIG Nandana Munasinghe and DIG Kamal Silva.(Darshana Sanjeewa)