---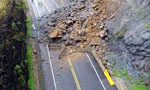 A landslide was reported in Imbulpe on the Ratnapura - Balangoda road this evening. It was caused by the heavy rains in the area, the Disaster Management Centre said.
DMC spokesman Pradeep Kodippili said the landslide had affected part of the Niyanagala Mountain. If the rains continue, the road may be closed, he said.
Two police posts had been established -- one at each end of the landslide area -- to immediately close the road if the rains continued, he said.
No deaths or injuries have been reported so far. A temple situated on the mountain had been damaged. There was no news yet about the Buddhist monk who resided in it, he said. People in the area had said they did not know whether the monk was inside the temple at the time of the landslide. (Chaturanga Pradeep)