---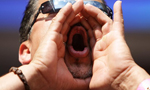 Former Deputy Health Minister Lalith Dissanayake, who pledged his loyalty to President Maitripala Sirisena, was subjected to a bout of booing when he addressed an electoral organization's meeting in Kuliyapitiya of the Kuruenagala district on Saturday.
The angry SLFP activists started shouting when Mr. Dissanayake was addressing the meeting. Despite that, he tried to continue with his speech. However, he finally gave way and left the place as hooting became intense.
His security officials escorted him out from the place.
Earlier, Ministers Mahinda Amaraweera and Susil Premajayantha met with the same problem in similar political addresses as parts of the plans by the SLFP leadership to revamp it. (KB)