---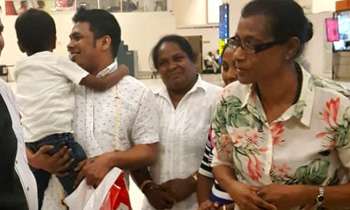 Lahiru Madhushanka, who languished in prison in the Maldives for three years accused of involvement in a plot to assassinate a Maldivian President and had been acquitted and released by a court, arrived at the Bandaranaike International Airport last night and was reunited with his family and loved ones.
The driver, Madhushanka arrived in the Maldives to seek a business opportunity in 2015 and suddenly found himself accused of being a highly trained sniper trying to kill President Abdulla Yameen.
On 23 October 2015, while waiting for a flight back to Sri Lanka, he was arrested at the airport by plainclothes police who accused him of being involved in a plot to assassinate President Abdulla Yameen.
His family and lawyer said he had since been repeatedly denied access to legal representation, and while in custody had been subject to ill-treatment including prolonged solitary confinement and beatings with cables that caused him to temporarily lose hearing in one ear.
Earlier, the Amnesty International condemned the "Cruel, inhuman and degrading treatment" of a Sri Lankan detained in the Maldives, saying he had been beaten and tortured.