---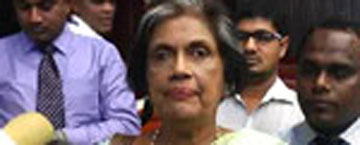 Former president Chandrika Bandaranaike Kumaratunga said today that there was no difference between LTTE extremism in the North and Sinhala extremism in the South.
She said their destructive mentality remained the same.
Ms. Kumaratunga told the media, at an event held to promote reconciliation, that she would not express her views on the allegations that former defense secretary Gotabaya Rajapaksa was connected to the 'Avaa' gang because she did not have all the facts to do so.
"I have read reports of some issues in the Northern Province because of the Avaa gang. But I am not aware of the details as to who is behind the gang. However, I am sure there are extremist elements behind it," she added.
Video by Chamilka