---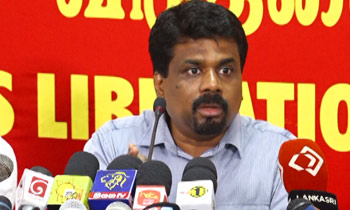 JVP today said the local government election should be held using the Proportional Representation System used earlier as it would be delayed further if the authorities decided to conduct it under the First Past the Post system that was proposed recently.
Addressing a press briefing, its leader MP Anura Kumara Dissanayake said the Chairman of the Election Commission had informed that at least 56 amendments needed to be made to the current system if they were to use it to conduct the LG polls.
He said that even though the report of the delimitation review committee had been gazetted, measures had still not been taken to resolve the technical issues that existed. He said another gazette notification had to be issued by announcing the number of members to be elected to each local authority, along with the number of slots allotted to woman candidates.
"For instance amendments had been recommended to be included in the Local Authorities' Election Act that at least 25 per cent of slots should be reserved for women candidates. Therefore with the number of slots set aside women candidates rising the number has to be gazetted," he said.
"Nearly two years has been passed after the tenure of the local government authorities officially ended. Before we hold elections, these matters have to be looked into, all of which takes more time," he said.
Mr. Dissanayake said that it was unclear exactly how many members would make up a local authority with a new election system in place. "Under the new system the number of members count rise to 3,423, which is an increase of nearly 60 per cent over the old system. As an example in the Colombo Municipal Council there are presently 53 members. With the new system it would rise to nearly 85. We would have to face the additional problem of space to house these members as well if this takes place," he said.
He said that all the local authority buildings needed to be demolished and more space made for the additional personnel who would be appointed. (Thilanka Kanakarathna)
Video by RM