---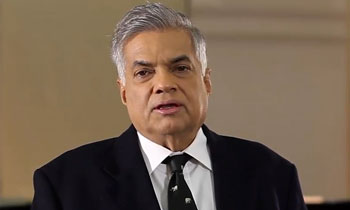 The government will do its utmost to conduct the February 10 elections in accordance with election laws, Prime Minister Ranil Wickremeisnghe said today.
The Prime Minister said this soon after signing the proposal to table the gazette notification on media ethics in Parliament.
The guidelines to be adhered to by media institutions were prepared by the Elections Commission.
"Government is committed to holding the local government elections under election laws and that is why we welcomed this proposal. The elections will be conducted under the new electoral system where a nomination list has to consist of 25 per cent women candidates and the people would be able to elect their representative to each of the wards," he said.
The ethics to be adhered to include the need to act impartially by giving equal space to all political parties; electronic media are barred from broadcasting print media editorials; TV news presenters are banned from making personal comments; to consider the coverage given to the President or the Prime Minister as a coverage given to the political party he or she belongs to and no special or favourable treatment given to any candidate.
When it comes to electronic media panel discussion, the respective channels have been asked to select the participants in a responsible manner. Journalists have been asked to inform the management of his or her institution if such a participant engages in election campaigning. The participant must not actively engage in the duties assigned to him in such media institutions and a person who is a candidate or holding office in a party in the fray should not moderate any political talk show or panel discussion. In the case of print media such person shall not publish his own political articles through that media institution.
Where any participant of a political party refuses to participate in a discussion or an interview in any media institution without assigning any reason for such non-participation, such media institution shall not display an empty chair or create other similar dramatic situations to emphasize such non-participation. It is recommended that a simple and direct announcement be made about the absence of the participant. (Yohan Perera)
Video by Amantha