---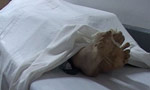 A brother in-Law of a Police Constable (PC) had been arrested by the Kuliyapitiya Police for allegedly clubbing a PC to death who was boiling milk at the dawn of the New Year, the Police said.

The victim (53) was an officer attached to Kuliyapitiya Police.

According to Police with the dawn of the New Year an argument had erupted when victim's wife received a telephone call and later she tried to self immolate and her husband had stopped it.
Police said that it was revealed at the primary investigations that her brother, who was at the PC's house, had attacked him with a club.

Although the victim was brought to the hospital he was pronounced dead due to bleeding.

The PC's wife, who had sustained burn injuries, is undergoing treatment at the Kuliyapitiya Hospital.

The suspect is being questioned by the Police.