---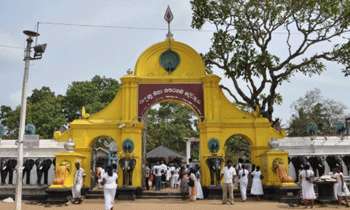 The Basnayake Nilame of Ruhuna Kataragama Devalaya, D. P. Kumarage had been suspended from his post, Minister of Buddha Sasana Gamini Jayawickrama Perera said today.
Mr Kumarage was elected as the Basnayake Nilame of the Ruhunu Kataragama Maha Devalaya in 2015.
Mr Kumarage, a businessman from Kandy, was elected as the 11th Basnayake Nilame of the Temple uncontested at the election held at the District Secretariat of Moneragala on April 28, 2015.
Speaking to the Daily Mirror Minster Jayawickrama Perera said the Basnayake Nilame was temporarily suspended for three months.
"He was suspended following several complaints received by the Ministry by the devotees and the Kataragama Devalaya Management," Minister said.
Meanwhile, Dilruwan Rajapaksa was appointed as the Acting Basnayake Nilame for three months.
After the inquiry was held, if Nilame D. P. Kumarage cleared from the charges, he would be re-appointed, he said.
Meanwhile, the Minister ordered to record the daily collection generated from cash and gold of the Devalaya.
The decision was taken to set a good precedence to other Devalayas in the country, the Minister said. (Chaturanga Samarawickrama)