---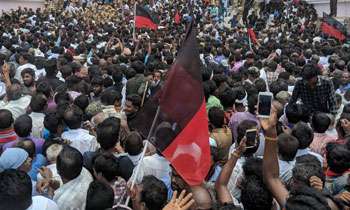 Two people were killed and many were injured as a stampede broke out this afternoon outside Chennai's Rajaji Hall, after the police used batons to control the crowds surging for a last look at DMK patriarch M Karunanidhi.
Several men and women suffered bruises and some fainted, the police said.
Karunanidhi's son MK Stalin, the DMK's working president, appealed for calm and requested his party men to peacefully disperse after paying homage.
"Those who are in power are trying to create chaos but you have all shown the strength of the cadres. I appeal to everyone to maintain peace," Mr Stalin urged.
The crowd began to swell by noon and people broke through barricades placed by the police in the sprawling premises.
There was complete chaos when a sudden rush among mourners arriving at the site caused many to lose their balance and fall.
"A man and a woman were brought dead to the hospital," A. Elango, an official of the Rajiv Gandhi general hospital, told Reuters, adding that 47 people had been admitted for minor injuries.
Challenged by the task of controlling the huge mass of supporters, the administration called in Rapid Action Force personnel to supplement the police.
People tried to access Rajaji Hall from various points, including from the hospital.
The Tamil Nadu government had announced a holiday today as a mark of respect to Karunanidhi.
All educational institutions, shops, business establishments, fuel outlets were shut. Cinema theatres cancelled shows for the day.
Tension had been building after the AIADMK government yesterday denied permission for the politician to be buried at Marina Beach.
Karunanidhi died at 94 in hospital on Tuesday evening. The DMK leader, who always appeared in public with dark glasses and a yellow shawl draped over his shoulder, built his political machine as a crusader for social justice. (NDTV)