---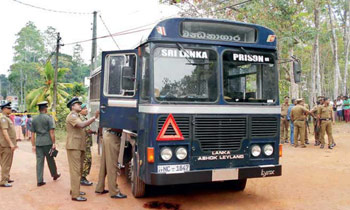 The Kalutara Prison Commissioner has been transferred with immediate effect by the Prison Reforms, Rehabilitation and Resettlement Minister D.M. Swaminathan in connection with the Kalutara prison bus shooting.
The Minister had instructed ministry secretary to conduct an independent inquiry regarding the incident.
Ministry sources said according to the investigation carried out by the Three Member Committee, it had been revealed that Samayan had not been hand cuffed while he was being taken to Courts.
"It was also found Samayan was wearing jewellery including rings and chains. The prison bus usually takes 5 to 10 minutes to reach the destination of Ethanapitiya. However, on the day of the shooting, it had taken about an hour for the bus to pass this stretch," sources said.
A mobile phone had also been recovered in the Kalutara Prison kitchen. "The decision to transfer the Commissioner was taken after taking into consideration all these facts," sources said.
The Minister earlier stated, if the prison officers were found guilty to these incidents, they will be punished without considering their status.
Seven people including notorious underworld figure Aruna Damith Udayanga Pathirana alias 'Samayan' and two prison guards were killed, when gunmen opened fire at the Black Maria when they were being transported from the Malwatte Prison in Kalutara on February 27. (Darshana Sanjeewa)