---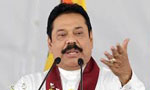 Former president Mahinda Rajapaksa today hit out at the government saying that the demolishing of the war heroes memorial in Kurunegala indicated that this government was bent on blotting out the war in Sri Lanka and that war heroes ever existed .
He said from the information he had received this the demolishing of the war memorial had been done to satisfy the TNA representatives who were expected to attend the 65th convention of the SLFP to be held in Kurunegala.
Mr. Rajapakasa said this after participating in a protest campaign held near the Maligapitiya Sports Grounds in Kurunegala organized by the family members of War Heroes.
The protesters including disabled soldiers, family members of war heroes and supporters of the joint opposition assembled in large numbers at the place where the site of the demolished memorial, carrying placards and hoardings.
Mr. Rajapaksa said he vehemently opposed this move and described it as a grave injustice done to war heroes. "There appears to be double standards in treating the LTTE and the war heroes, who protected our country from the terrorists at the risk of their own lives. The widening of the road could have being done without harming the memorial. If they do not reconstruct it I will take action to prosecute them," Mr. Rajapaksa said."It is clear now that this is a move to satisfy the wishes of TNA MP Shashikala." (Pushpakumara Jayarathne)