---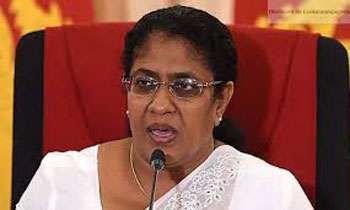 Justice Minister Thalatha Athukorala has apparently put more effort into finding those who were involved in leaking the CCTV visuals of prison officers assaulting inmates at the Angunakolapelessa Prison rather than taking action against the officials who were involved in the inhumane assault.
Addressing a press briefing in Colombo yesterday, Ms. Athukorala warned that whoever leaked the visuals will be found and action taken against them.
"Whoever leaked the CCTV visuals, has to be working inside the prison. We will conduct an inquiry to find out who it was," the minister said.
She also criticised members of the Committee for Protecting Rights of Prisoners (CPRP) for releasing the visuals to the media, creating a controversy, without handing them over to the ministry.
The CCTV visuals of prison officers assaulting inmates on November 22, 2018, that have gone viral on social media and were released on Wednesday (16) by the CPRP. Before holding a media conference, the CPRP had lodged a complaint with the CID and handed over a DVD copy of the visuals to them, demanding a criminal inquiry and prosecution of the prison officials involved in the assault.
Amidst pressure mounting on the Ministry of Prison Reforms from local and international parties, the minister addressed the media yesterday to make a statement with information received so far on the incident.
She explained that there had been a chain of incidents that had taken place inside the Angunakolapelessa Prison before the November 22nd assault took place.
According to her, a group of prison officers had gone to a prison ward to settle an ongoing dispute between inmates who had then confronted the prison officers and attempted to hold them captive.The alarm was raised that a revolt was taking place and prison officers who rushed to the spot had taken the inmates out and allegedly beaten them, scenes of which were depicted in the video that was shown on social media," Minister Athukorala said.
She further said in addition to the three-member committee appointed on Wednesday, another three-member committee was appointed yesterday (17) by her to inquire into the assault on prisoners and the report of the second committee will be released on January 25. (Piyumi Fonseka)
Video by RM, Buddhi