---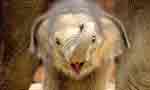 The elephant calf that had been rescued from an uncovered drain in Hambantota would not be reunited with its mother but would be raised at the Elephant Transit Home in Uda Walawe for three to four years, Wild Life Conservation Department officials said today.
Speaking to the Daily Mirror, Wild Life Health Management' Director Dr. Tharaka Prasad rejected reports on the release of the elephant calf to a temple by the WLCD.
However, Dr. Prasad said the mother elephant had refused to feed the baby elephant after it was taken into the Uda Walawe Elephant Transit Home for treatment for fracture in its leg.
"The elephant is still being treated for its broken leg by our doctors. According to its age, the baby elephant should be fed by its mother. However, we are feeding it to meet the nutrients it needs. It will be kept at the Transit Home until it grows enough to live alone in the wild," Dr. Tharaka said.
WLCD Media Spokesman Hasini Sarachchandra said there was no need to carry out an inquiry on how the baby elephant got stuck in the drain, because Hambantota, where the Habour and the Airport are located was a region where hundreds of wild elephants roam freely. (Piyumi Fonseka)