---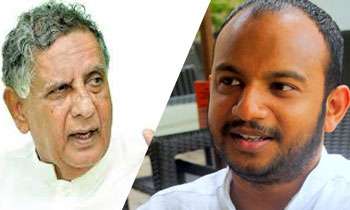 UNP MP Dr. Kavinda Jayawardene and former Speaker Joseph Michael Perera who is also an UNP organizer, engaged in a verbal clash at a function held in a church recently.
The clash erupted when Mr. Perera protested against the omission of his name in the plaque and on the banners led to the verbal spat.
Mr. Perera told Daily Mirror that the foundation stone for a new Sunday school building is to be constructed using the Housing Ministry funds. "I was invited to the ceremony by Housing and Construction Minister Sajith Premadasa and saddened to note my name was missing. My name deserves a place in the plaque as I am the organizer of Ja-Ela," Mr. Perera said.
However, Dr. Jayawardene said the building will be constructed using funds from his decentralized budget and Mr. Premadasa had nothing to do with it. He had then questioned Mr. Perera as to whether he puts his name on the projects done by his decentralized budget.
Also Mr. Perera charged that Dr. Jayawardene had criticized Prime Minister Ranil Wickremesinghe recently . However Dr. Jayawardene said it was Mr. Perera's son who criticized the Premier.
Asked whether he would lodge a complaint against Dr. Jayawardene, Mr. Perera said he would not. (Yohan Perera and Tissa Kotinkaduwa)
Video by Buddhi