---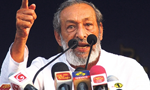 The Joint Opposition today slammed the Government for evicting residents of Henmulla Nawa Niwasa Watte and the Kajima Watte down Ferguson Road, Thotalanga without any prior notice to initiate the Megapolis Western Province Development Project.
Opposition MP Vasudeva Nanayakkara told a media conference that the fate of all those working class in the heart of Colombo City would be the same as the residents of Kajima Watte and Nawa Niwasa Watte with the continuation of the Megapolis Project.
"Is this how the Government implementing Inclusive Development? While the poor is evicted to the corners of the city, the business community that depends on the poor is brought into the centre of the city. The real motive of Minister Champika Ranawaka can be seen now. Those who used to hit out at our government can see how this government is dealing with the poor," MP Nanayakkara said.
He said it is high time the people stood against the injustice done by the Government.
Speaking at the briefing Professor Tissa Vitharana said if the demolishing of the houses, which were recognised as 'unauthorised constructions' were essential, the Government should have given alternative places to the residents without evicting them.
He urged the Government not to make the Megapolis Project a threat or hindrance to the lives of the people. (Piyumi Fonseka and Darshana Sanjeewa)