---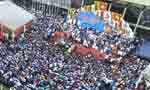 The joint opposition is in a dilemma after the cancellation of the reservation of Shalika Ground in Narahenpita for the commencement of its May Day procession.
Mahajana Eksath Peramuna (MEP)'s Somaweera Chandrasiri, who spoke on behalf of the joint opposition and trade unions affiliated to it, said the ground was reserved on March 8 after making a payment of Rs.12,500 to Sri Lanka Transport Board to which it belongs.
However, he said the SLFP authorities notified the organizers of the joint opposition that the reservation had been cancelled.
"We were informed of it only Thursday evening. We have already made arrangements for the May Day event by informing our organizations to assemble at this place first for the procession. However, we are put through a difficult process by this sudden cancellation," he said.
He said the joint opposition decided to take legal action demanding Rs.20 million as compensation for this cancellation.
The joint opposition is the faction of the United People's Freedom Alliance (UPFA) loyal to former President Mahinda Rajapaksa. (KB)