---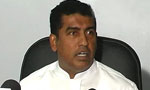 Former Minister of Co-operatives and Internal Trade, Johnston Fernando today arrived at the Police Financial Crimes Investigation Division (FCID) to give a statement over an inquiry into the importation of 240 tonnes of rice during his tenure.
According to FCID sources, a stock of rice had been imported into the country through the Co-operative Wholesale Establishment (CWE) during his tenure as minister.
The FCID is probing an alleged procedural lapse in importing this stock of rice -- for which the relevant Cabinet Paper had been submitted by him.
Video by Buddhi