---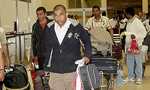 The Sri Lankan government is considering alternative economies of other countries instead of Saudi Arabia where the most number of Sri Lankan migrant workers are currently employed in.
The decision was made by Foreign Employment Minister Thalatha Athukorala due to fears of Sri Lankan migrant workers losing their jobs as a result of the current economic crisis faced by Saudi Arabia.
"With the fall of fuel prices, an economic crisis occurred in the Saudi Arabian economy. Subsequently, the number of foreign workers who migrated to Saudi was going down. However, instead of Saudi Arabia, we will be looking at other options,"
The Minister said she was hopeful that a better economy could be found by the Sri Lankan government.
She assured that Sri Lankan migrant workers would not be affected by the economic crisis in Saudi.
However, twelve Sri Lankans who had been working in 'Saad Trading Company' in Riyadh, Saudi Arabia have already lost their jobs and they are yet to return to the country.
Meanwhile, some 100 Sri Lankans who were working in 'Saudi Oger Company' are facing a risk of losing their jobs.
The Sri Lankan government is yet to take action on behalf of the 100 Sri Lankans. (Piyumi Fonseka)