---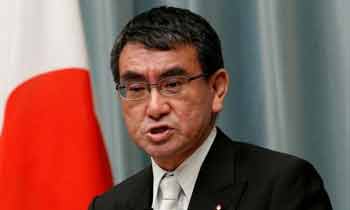 Japanese Foreign Minister Taro Kono will visit Sri Lanka from January 4 to 6, 2018, a statement from the Japanese embassy here said yesterday.
This is the first time in fifteen years for a Japanese Foreign Minister to visit Sri Lanka.
The statement said, "This visit is aimed at further consolidating the "Comprehensive Partnership" between Japan and Sri Lanka based on previous visits by Sri Lankan leaders by President Maithripala Sirisena in May 2016, and Prime Minister Ranil Wickremesinghe in April 2017".
"Strengthening cooperation and collaboration with Sri Lanka is important for the realization of a free and open Indo-Pacific area based on the rule of law,"
During his visit, Kono will pay courtesy calls to the President and the Prime Minister, as well as have a meeting with Tilak Marapana, Minister for Foreign Affairs in order to discuss bilateral relations, regional and international matters etc.