---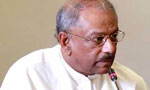 The five-day Jana Satana Paada Yathrawa organised by the Joint Opposition (JO) against alleged 'suppression' by the government towards the people and the JO members will be launched from Kandy on July 28.
JO Leader and UPFA MP Dinesh Gunawardena said there were several causes which had led them to launch the Paada Yathrawa and said postponing of the local government elections, tax increase, signing of ETCA, curtailment of farmer's relief, Constitutional trap and political witch hunt were among them.
"It seems we need to constantly remind the government to be on track. It's we who launched protests against the former governor of the Central Bank forcing the government to appoint a new governor. Therefore, we will launch a peaceful walk against the government's suppression," he told a media briefing held in Colombo.
Meanwhile, outlining the Paada Yathrawa's schedule and route, its organizing committee member MP Mahindananda Aluthgamage said the preparations for the walk would be start on July 27 evening from the Sri Dalada Maligawa after seeking blessings from the Most Ven. Mahanayake Theras.
He said the preparations will be held under the patronage of former president and MP Mahinda Rajapaksa and the Paada Yathrawa would be launched in the morning of July 28 near the Queens Hotel, Kandy.
"The second day of the Paada Yathrawa will be launched from Mawanella, the next day in Nelumdeniya followed by Nittambuwa on 31 and will reach Colombo on August 1," he said.
Recalling the court order on the JO's May Day procession's location, JO Organiser MP Dullas Alahapperuma said they would not reveal the location where the final rally would be held until the last minute as a precautionary and a strategic measure.
He said the ministers were belittling attempts of the JO and its Paada Yathrawa saying the government could not be changed until the next general election in 2020. "This is not so. The people of Brazil took it to the street against the government two months ago compelling the government to resign," he said. (Lahiru Pothmulla)
Video by Sanjeewa